About Our Office
State-of-the-Art Dentistry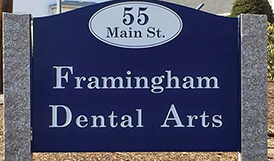 Framingham Premier Dental is conveniently located on Main Street in Framingham, Massachusetts, and it's accessible via all major roads. We take pride in our dental office, which utilizes state-of-the-art equipment and comprehensive, compassionate care. We have a modern sterilization system that surpasses OSHA requirements. We utilize one of the best equipment sterilization techniques available to dentists.
Our friendly and competent staff is dedicated to patient comfort and quality care. We want you to feel comfortable and relaxed, which is why we use the latest in dental technology and comfort amenities. We want you to have an optimal and positive dental experience! Framingham Premier Dental provides the best and latest in dental technology and treatment options. We offer gentle, family-oriented dentistry to the adults and children of our community. Nothing gives us more pleasure than seeing your smile after completed treatments—whether you're having a regular cleaning or a complete smile makeover.
In addition to general dentistry and cosmetic dentistry, we work with specialists in periodontics (gum disease), implant dentistry, and endodontics (root canal therapy), as well as other dental specialists. We are happy to work with our peers to ensure you're receiving the best of general, cosmetic, and restorative dental services. Our Framingham team emphasizes comprehensive quality care and preventive dentistry. We offer a wide array of services designed to renew and repair the most damaged of smiles. We look forward to welcoming you to our dental family!
Framingham Premier Dental offers experienced and energetic people whose goal is to communicate well with our patients and provide the best care possible. Our team consists of dedicated individuals who are kind, friendly, and caring. Our staff is here to ensure a pleasant experience during your visit to our office. You'll feel warmly welcomed the moment you arrive for your dental visit—whether it's your first or your five-hundredth!
We proudly provide quality dental care to the community of Framingham, MA and surrounding areas. Framingham Premier Dental offers the most advanced technology in cosmetic dentistry. Teeth whitening, porcelain veneers, and full porcelain crowns are a few examples of how we redesign the smiles of our patients. Our featured services also include general dentistry, root canal therapy, teeth whitening, dental implants, restorative procedures, Invisalign clear braces, TMJ therapies, and so much more. We are always glad to hear from you if you have any questions or need clarification about our policies or procedures.
We accept a variety of payment options and wide range of dental health insurances. We are providers for: BCBS (Blue Cross / Blue Shield) , Delta Dental (Premier and PPO), Aetna, MetLife, Cigna, United Health Care (SCO) - EverCare, Altus, DenteMax Network, and Mass Health for Children only (under 21).
Thank you for visiting our website, and see you soon!
More to Explore