Framingham Cosmetic Dentist Straightens Smiles with Invisalign®
Discreetly Correct Misaligned Teeth with Clear Braces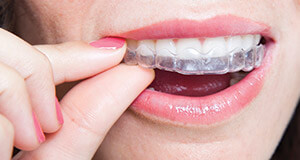 At our Framingham, MA dental practice, Dr. Marianna Gaitsgory offers Invisalign clear braces as an optimal teeth-straightening solution for teens and adults. For patients seeking a cosmetically suitable option for straightening crooked and crowded teeth, we may recommend this solution because it allows patients to avoid the bracket-and-wire appearance of traditional orthodontia. As an alternative, Invisalign clear braces are a very aesthetically pleasing orthodontic remedy for teens and adults who want to straighten their smiles un-noticeably and comfortably.
We know that fixing crooked teeth drastically improves your appearance and confidence. In addition, realigning teeth that overlap or crowd each other improves your oral health. It's difficult to remove food particles that get trapped in misaligned teeth, and having crooked teeth also increases your risk of gum disease and tooth decay.
Dr. Gaitsgory will evaluate your teeth and mouth to determine if Invisalign clear braces will best benefit your smile. If Invisalign is the teeth-straightening solution for you, we'll use 3-D computer imaging technology to create your treatment plan. The images show the progression from the initial position to the final, optimized position. With this data and your molds, the dental lab creates your series of Invisalign clear aligners.
Invisalign moves your crooked or oddly spaced teeth into alignment over the course of twelve to twenty-four months. Every two weeks, you switch out one set of aligners for the next in the series. Since adjustments aren't needed, you only need to check in with Dr. Gaitsgory at our Framingham dental practice every six to eight weeks.
At Framingham Premier Dental, we believe Invisalign clear braces are especially beneficial for teens and adults who don't wish to endure the look, feel, or worry created by traditional orthodontics. Some of the benefits of the Invisalign system include:
The clear plastic makes Invisalign virtually unnoticeable.
The aligners are removable so you can eat meals and snacks whenever you want.
There are no dietary restrictions since there aren't any brackets or wires to worry about breaking or ruining.
Since you can brush and floss your teeth as you normally would, there's no need to worry about the increased risk of tooth decay and gum disease often associated with traditional braces
Keeping your aligners clean and debris-free is as easy as popping them out and brushing them thoroughly with a toothbrush and lukewarm water.
Your Invisalign aligners are made from comfortable plastic that fits nicely over your teeth and won't irritate your gums or smile.
Contact Us for Your Invisalign Consultation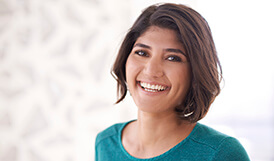 Dr. Gaitsgory and the rest of our team look forward to providing you with the beautifully straight smile that you deserve. Contact Framingham Premier Dental today at (508) 875-0900 or request an appointment via email. We serve teens and adults in Middlesex County, Natick, Sudbury, Ashland, Southborough, Westborough, Marlborough, Hopkinton, Holliston, and Sherborn, Massachusetts and beyond.