Full & Partial Dentures – Framingham, MA
Helping You Restore Your Smile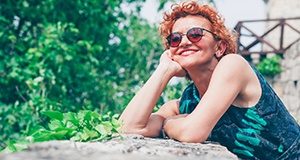 If you're suffering from tooth loss, you're not alone. According to the American College of Prosthodontists, over 40 million people in the country are missing all of their teeth. Not only can this have a drastic impact on your day-to-day life, but it can destroy your confidence as well. At Framingham Premier Dental, we offer completely customized full and partial dentures for patients who are missing several or all of their teeth in an arch. If you believe you could benefit from restoring your smile and would like to learn more, be sure to schedule a consultation by contacting our office today!
Full Dentures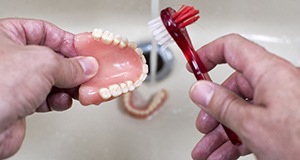 Full dentures in Framingham are comprised of a gum-colored acrylic base that's specially designed to fit over your gums. It uses natural suction and denture adhesive to remain stable and secure in your mouth, allowing you to eat and speak with ease. Atop the gum-colored base are attached artificial replacement teeth that are crafted to mimic the natural color, shape, and size of your home-grown teeth. Because your dentures are removable, they're easy to clean and care for as well.
Partial Dentures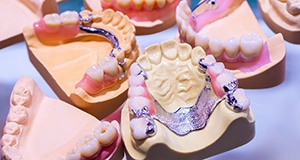 We may recommend partial dentures if you are missing several teeth in an arch. These are customized restorations made to strategically and discreetly fit around your existing teeth to hold your replacements in place. The base of partial dentures is slightly smaller than full dentures and can be crafted from metal or gum-colored acrylic. The artificial teeth are specially designed to match the color, shape, and size of the existing natural teeth that surround them.
Benefits of Replacing Missing Teeth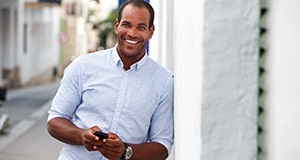 When you leave gaps in your smile without replacing them, it won't just wear on your self-esteem. Missing teeth can also have a huge impact on your day-to-day life by affecting your oral health and making it more difficult to do basic daily tasks. Here are some benefits you'll be able to enjoy by replacing your missing teeth with dentures in Framingham:
Improved biting ability
Preserve your facial appearance
Easily removable for added convenience
Keep surrounding teeth from drifting out of place
The best way to learn how dentures could benefit you is to schedule a consultation with Dr. Gaitsgory today. Our team will examine your mouth and facial structure and provide you with tooth replacement solutions that can change your life.
Dentures FAQs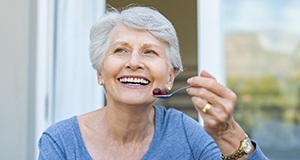 If you are currently thinking about how you would like to replace your missing teeth, you know there are many options available. Dr. Marianna Gaitsgory and her team at Framingham Premier Dental want you to be confident in your decision and can provide valuable insight that will help you make the right choice for your future smile. If dentures in Framingham are an option you are considering, allow us to answer some of the most frequently asked questions to give you more clarity on this safe and reliable tooth replacement solution.
How long will it take to adjust to my new dentures?
Because dentures are a foreign object in your mouth, it should come as no surprise that there will be an adjustment phase once they are in place. No matter if you need a top or bottom denture, or both, it can take some time for your mouth to become used to these new restorations.
Fortunately, there are a few things you can do to help move the process along and make it a more comfortable experience, such as:
Practice speaking in front of the mirror. You may notice that you have a minor lisp in the beginning. This is because your tongue is attempting to maneuver around the denture. By slowing your speech and practicing how to enunciate more difficult words, you will feel more confident speaking to others.
Eat softer foods in the beginning. Harder, more dense foods can make your mouth more sore and potentially cause you to remove your dentures out of discomfort. Stick to softer, more malleable foods (i.e. yogurt, mashed potatoes, soup), as this will allow you to remain comfortable and begin learning how to eat with your dentures in.
What products are available to prevent slipping?
Although your natural suction should help to keep your dentures in place, you may need to purchase a dental adhesive for added security. Nowadays, dentures are made in a way that decreases the chances of accidental slippage; however, some patients find that using a small portion of adhesive along the denture helps to keep it in place for longer, allowing them to avoid any potential embarrassment while eating out with family or friends.
If you are wearing a partial denture, you should not have to worry about this, as your restoration will be attached to your natural teeth using metal clips or clasps.
How long will my dentures last before they need to be replaced?
The lifespan of your dentures is dependent upon how well you care for them. Typically, dentures are meant to last anywhere from 5-8 years; however, it is possible that they can last a bit longer with proper maintenance.
You must remember, though, that over time, your facial structure and shape will begin to change, causing your jaw to shrink and your denture to longer fit as it should. When this happens, you will need to have an adjustment to ensure a proper fit. If necessary, Dr. Gaitsgory will recommend a replacement denture to help you maintain a healthy, beautiful smile.
What are some tips for protecting dentures?
When choosing dentures, you will need to remember that they are removable and will require proper upkeep. This includes:
Regularly cleaning your dentures to remove harmful bacteria and food particles
Using a towel in your sink to protect your dentures should you accidentally drop them while cleaning
Make sure they remain moist by soaking them at night. This will ensure they do not become brittle and break
Using appropriate instruments (i.e. denture brush and cleaner) to effectively clean your dentures without scratching or damage the custom-made restoration