Dental Implants in Framingham
Implant Dentist Providing Secure Tooth Replacement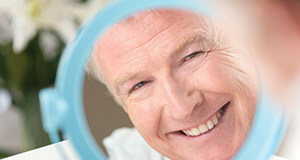 Dental implants provide the most natural and lifelike results of any restorative dentistry service, and now you can have your entire procedure completed in-office at Framingham Premier Dental.
A restorative makeover with dental implants takes two stages to complete. In the first stage, your implants will be surgically placed during a visit to Dr. Gaitsgory's Framingham dental office. We have a trusted periodontist from the area who provides high quality surgical placement in our office for the convenience of our patients. How many implants you end up with will depend on how many teeth we're replacing. Dental implants can be used to replace a single tooth, multiple teeth, or a full row of teeth. Regardless of how many implants you need, we can complete your entire procedure at our office with the help of an experienced periodontist.
Some of our periodontist services include:
Bone Grafting
Bone Replacement
Sinus Lift
Gum Grafts
Crown Lengthening
In the second stage, you come back to our Framingham dental office to have your custom-made restoration attached by Dr. Gaitsgory. When we're completely done with your dental implant restoration, you can look forward to a smile that looks and feels natural. Finally, you can smile with confidence and enjoy all your favorite foods again!
Dental Implants Provided by Dr. Marianna Gaitsgory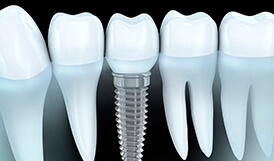 In the Framingham, MA area, Dr. Marianna Gaitsgory restores dental implants to replace missing teeth. For nearly 60 years, dental implants have been a desirable alternative to other methods of replacing missing teeth. Excellent success rates and a range of available options give dentists a variety of ways to treat and replace lost teeth. Dental implants have up to a 98% success rate, and they are permanent, beautiful, and natural-looking solutions for replacing your teeth. Many adults in the United States experience tooth loss. If you have one or more missing teeth, you're not alone, and you don't have to settle for a smile impaired by unsightly gaps. Reasons for tooth loss include:
Dental traumas
Tooth decay (cavities)
Congenital defects
Failed root canals
Excessive wear and tear
Infections
Advanced gum disease
Dental implants are a wonderful solution for replacing missing teeth. Our Framingham patients have many choices for replacement teeth including bridges, partials, full dentures, and dental implants. At Framingham Premier Dental, we believe dental implants are one of the best options for replacing your teeth.
Dr. Gaitsgory can evaluate your case and tell you if you are a candidate for dental implants. To be viable as a dental implant candidate, you must be in good health and your jaw structure must be stable and strong. Structurally, a dental implant is a titanium-based cylinder that replaces the missing tooth root. After a period of time, other parts are placed on the implant to enable your Framingham dentist to eventually place a crown (cap) on the implant. Multiple implants can also be used to support full or partial implant-retained prosthetics, dramatically improving denture retention and stability.
Most patients with adequate bone mass can have implants, although it varies among individuals. Typically, an X-ray and CT-scan are performed to determine if you have enough bone to place the implant, as well as to verify the size and kind of implant that should be placed. Implants are one of the best teeth replacement options. At our Framingham dental practice, we work with a trusted periodontist who comes into our office to ensure that your placement procedure goes as smoothly and comfortably as possible. This offers maximum convenience for our patients, and allows Dr. Gaitsgory to serve as your advocate throughout treatment working in close partnership with our periodontal specialist.
Dental implants mimic tooth roots. Did you know that the jawbone needs tooth roots to receive nourishment over time? Without tooth roots, your jawbone no longer has a purpose and will begin to disintegrate. When you have missing teeth, bone loss is imminent and oral health can be detrimentally affected. Dental implants keep remaining teeth from shifting, lower your risk of gum disease, and restore chewing and speaking function. At Framingham Premier Dental, we will be happy to talk to you about dental implants and to see if they are the best option for your smile.
Are Dental Implants Right for Me?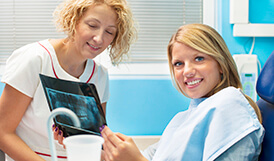 There are many reasons why you might need to replace one or more teeth including:
Tooth decay
Failed root canal
Advanced gum disease
Dental trauma
Congenital defects
However, not every patient is a candidate for dental implants. Let Dr. Gaitsgory help you decide what's right for your smile with a consultation at Framingham Premier Dental. During a consultation, we'll assess your needs and talk to you about how you'd like to see your smile change. Then, we can recommend a treatment plan crafted personally for you.
Post-Op Instructions for Implant Surgery
You may experience some discomfort and bleeding the day of the surgery.
Take all medication that was prescribed for you according to instructions.
Apply an ice bag on your face over the surgical site on the day of surgery for 10 minutes on and 5 minutes off.
Keep your next appointment for removal of sutures and follow up checks.
DO NOT raise your lips with your fingers to inspect the treated area.
DO NOT brush teeth near the surgical site. Brush teeth in the rest of your mouth.
There is often a temporary loss of feeling in the operated area and the tooth may feel loose.
Do not smoke, spit, or use a straw on the day of the surgery (avoid smoking for a few days after the surgery).
Should any difficulties occur, do not hesitate to call our office anytime. In case of serious emergencies, call 911.
Your Dental Implant Consultation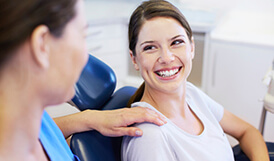 Contact Framingham Premier Dental now or you can call us at (508) 875-0900. Dr. Marianna Gaitsgory and our team look forward to restoring your smile with dental implants. We offer many teeth replacement options, as well as comprehensive restorative and cosmetic dentistry. We proudly serve all of Middlesex County, Natick, Sudbury, Ashland, Southborough, Westborough, Marlborough, Hopkinton, Holliston, and Sherborn in Massachusetts.