Dental Implants – Framingham, MA
Secure and Healthy Tooth Replacement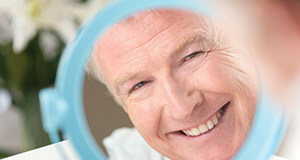 Dental implants provide the most natural and lifelike results of any restorative dentistry service, and now you can have your entire procedure completed in-office at Framingham Premier Dental.
A restorative makeover with dental implants takes two stages to complete. In the first stage, your implants will be surgically placed during a visit to Dr. Gaitsgory's Framingham dental office. We have a trusted periodontist from the area who provides high quality surgical placement in our office for the convenience of our patients. How many implants you end up with will depend on the number of teeth we're replacing. Regardless of how many implants you need, we can complete your entire procedure at our office with the help of an experienced periodontist.
Some of our periodontist services include:
Bone Grafting
Bone Replacement
Sinus Lift
Gum Grafts
Crown Lengthening
In the second stage, you'll come back to our Framingham dental office to have your custom-made restoration attached by Dr. Gaitsgory. When we're completely done with your dental implant restoration, you can look forward to a smile that looks and feels natural. Finally, you can flash your teeth with confidence and enjoy all of your favorite foods once more!
Benefits of Dental Implants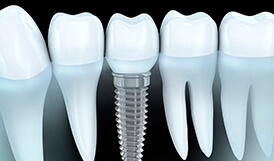 Dental implants have benefits that you simply can't get with other replacement solutions. Patients choose dental implants for these advantages:
Strength: Because dental implants are fused to your jawbone, they allow for a stronger biting power than any other replacement. That means you can eat a more varying diet.
Health: Dental implants are the only replacement option that stimulates your jawbone to keep it strong and healthy.
Longevity: With proper care, implants can last a lifetime.
Confidence: Dental implants give you the confidence that you need during your personal and professional lives to smile and make positive impressions.
Comfort: Dental implants allow your restorations to look and feel like natural teeth, allowing for unmatched comfort.
Are Dental Implants Right for Me?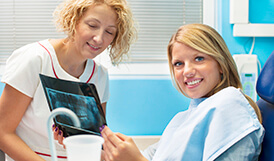 There are many reasons why you might need to replace one or more teeth including:
Tooth decay
Failed root canal
Advanced gum disease
Dental trauma
Congenital defects
However, not every patient is a candidate for dental implants. Let Dr. Gaitsgory help you decide what's right for your smile with a consultation at Framingham Premier Dental. During a consultation, we'll assess your needs and talk to you about how you'd like to see your smile change. Then, we can recommend a treatment plan crafted personally for you.
Indications for Dental Implants
Dental implants in Framingham can be used to replace a single tooth, multiple teeth, or a full row of teeth. The type of restoration that you need will depend on the number of teeth that you're missing. At Framingham Premier Dental, we restore implants with the following options:
Missing Single Tooth
If you're missing a single tooth, Dr. Gaitsgory can replace it with an implant-supported crown. This custom-made restoration is mounted on top of your dental implant to seamlessly complete your smile's appearance and function. This replacement prevents drifting of your existing teeth and gives you the most stable single-tooth replacement available.
Missing Multiple Teeth
Are you missing multiple teeth consecutively? We can use an implant-retained dental bridge to literally bridge the gap in your smile. With dental implants on either side of your missing teeth, this personalized prosthetic will be anchored in your jawbone for maximum comfort and function.
Missing All Teeth
If you're missing all or most of your teeth, we can combine dentures with dental implants to give you implant-retained dentures. This option allows us to replace your entire smile while giving you the stability and health benefits of dental implants. After implants are strategically placed in your jawbone, we'll attach your custom-made denture for a sturdy and beautiful set of teeth.
Post-Op Instructions for Implant Surgery
You may experience some discomfort and bleeding the day of the surgery.
Take all medication that was prescribed for you according to instructions.
Apply a cold compress to your face over the surgical site on the day of surgery for 10 minutes on and 5 minutes off.
Keep your next appointment for removal of sutures and follow up checks.
DO NOT raise your lips with your fingers to inspect the treated area.
DO NOT brush your teeth near the surgical site. Brush your teeth in the rest of your mouth.
There is often a temporary loss of feeling in the operated area and the tooth may feel loose.
Do not smoke, spit, or use a straw on the day of the surgery (avoid smoking for a few days after the surgery).
Should any difficulties occur, do not hesitate to call our office any time. In case of serious emergencies, call 911.
Understanding the Cost of Your Dental Implants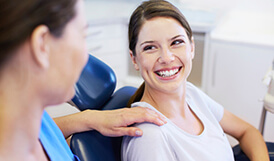 The cost of your dental implants can vary greatly based on numerous variables. The number of teeth that you're missing, where you're missing them, and the condition of your oral health are all factors that influence the cost of your treatment. Before beginning your dental implant process, any preexisting issues will need to be treated. You will also have to account for your restoration (crown, bridge, or denture), which is an additional cost to dental implants themselves. Dr. Gaitsgory will give your mouth a thorough examination before developing a personalized treatment plan that will include a precise estimated cost.
Learn More about Cost of Dental Implants
Your Dental Implant Consultation
Contact Framingham Premier Dental now or you can call us at (508) 276-3098. Dr. Marianna Gaitsgory and our team look forward to restoring your smile with dental implants. We offer many teeth replacement options, as well as comprehensive restorative and cosmetic dentistry. We proudly serve all of Middlesex County, Natick, Sudbury, Ashland, Southborough, Westborough, Marlborough, Hopkinton, Holliston, and Sherborn in Massachusetts.
Dental Implant FAQ's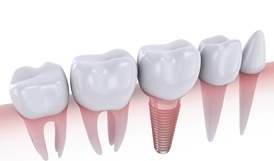 If you're considering dental implants, you may have additional questions about this replacement or its process. At Framingham Premier Dental, we want our patients to have all the information that they need, giving them confidence in a quality treatment. That's why we've included the answers to some of the most frequently asked questions about dental implants in Framingham.
Are Dental Implants Worth the Investment?
Typically, dental implants have a higher price tag than other options, so many patients wonder if they're worth the investment. Dental implants offer health, aesthetic, and functional benefits that you can't get with other options. In fact, dental implants could end up saving you money down the road by preserving your jawbone and natural dental structure. They are also the only tooth replacement that can last a lifetime with proper care.
Does it Hurt to Receive Dental Implants?
Many patients hear about the dental implant process and automatically think that it's going to hurt. In reality, those who have undergone surgery say that the discomfort equates to a simple tooth extraction. Our team will ensure that you're relaxed and numb before the procedure. Plus, we even offer sedation options for a deeper sense of calmness. Drilling into your bone may sound painful, but your jawbone doesn't contain pain-sensing nerves, making the process much more comfortable than it seems. Patients will typically report the most discomfort after surgery, where they may experience soreness during the healing process.
How Long Does the Dental Implant Process Take?
The dental implant process will start off with a consultation, where we will check your oral health and develop a treatment plan. Then, the surgery itself can be completed in as little as one appointment. However, it can take 3 to 6 months for your dental implants to fully integrate into your jawbone. After, you'll come back into our office, where we will place your custom-made restoration for a beautiful, functional, and complete smile.
How Many Dental Implants Do I Need?
It's difficult to estimate the number of dental implants that you need without examining your mouth first. This number will directly depend on how many teeth you're missing, however, some teeth may even need multiple implants—it all depends on your specific smile. For example, if you're missing all or most of your teeth, we will typically need an average of 4 dental implants to properly support a denture. Our expert dentist in Framingham will carefully check your smile to determine the right number of implants for your smile.