Dental Crowns – Framingham, MA
Framingham Dentist Rebuilding Teeth with Dental Crowns
Over time, your natural teeth can fall victim to a whole host of potential injuries, from minor breakage to full tooth loss. When this happens, it's important to have this vital structure rebuilt in a functional and aesthetically pleasing fashion. At Framingham Premier Dental, Dr. Marianna Gaitsgory can provide custom dental crowns designed to renew teeth. This restoration is meant to look great, feel great, and allow you to get back to enjoying all the benefits of a complete, healthy smile as soon as possible. Read on or reach out to us if you wish to learn more about dental crowns in Framingham today!
Support – please reuse the current image for the "Dental Crowns" section for the "What Is a Dental Crown?" section. Thanks!
What Is a Dental Crown?
A dental crown is a "cap" made of porcelain that is designed to cover a compromised tooth. This restoration is an important cornerstone of restorative dentistry and for good reason – it can be used to rebuild the shape and strength of natural teeth in many situations including the following:
You have a decayed tooth that can't be treated with a filling alone.
You have an injured tooth in need of rebuilding.
You have a weakened tooth that's at a higher risk of fracturing.
You have a lost tooth that's been replaced with a dental implantand requires restoration.
You have a tooth that's been treated with root canal therapy and needs restoration.
You have a tooth that's suffering from significant cosmetic flaws.
The Dental Crown Process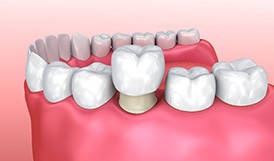 The process of receiving a new, personalized dental crown typically takes two to three appointments at our Framingham practice. After preparing the tooth in question, Dr. Gaitsgory will take impressions for the dental laboratory and provide a temporary restoration in the meantime for protection. Then, once the finished crown is sent back to our office, we invite you in for a shorter follow-up appointment so our team can make any last-minute adjustments and cement the restoration in place for a comfortable, functional fit. Our goal is to leave you feeling fully satisfied with the result!
The Benefits of Getting a Dental Crown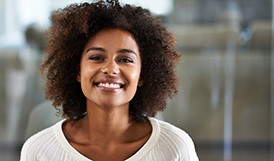 A dental crown will effectively renew the appearance of a compromised or damaged tooth, returning it to full strength and allowing you to chew and speak comfortably again. Even severely broken pearly whites that can't be repaired with a filling can instead be held firmly together with a crown. This restoration can also be used to address a mild gap between your teeth, or if their position needs minor correction.
Since your enamel will not grow back on its own, it's crucial to cover the area with a protective shell. Leaving a damaged or decayed tooth exposed for too long can make it more susceptible to further harm or infection. By getting a dental crown now, you can save yourself from needing root canal therapy or extraction later on.