Meet Your Framingham Dentist, Dr. Marianna Gaitsgory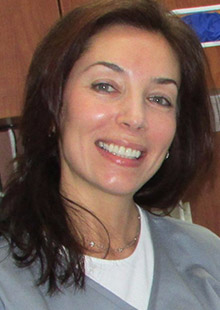 Dr. Gaitsgory is a graduate of the Goldman School of Dental Medicine at Boston University. She has a doctor of dental medicine (DMD) degree and has been in practice for many years. She is committed to continuing education, and has completed numerous hours of training in multiple dental specialties and procedures.
Her emphasis on patient comfort, as well as staying relevant through the adoption of advanced dental technologies and procedures, enable her to provide patients with the best quality of care in the field. Dr. Gaitsgory has a wide range of experience in different areas of dentistry, from preventive and restorative procedures, to cosmetic dentistry. She treats children, teens, adults, and seniors.
Dr. Gaitsgory focuses on prevention, and how the health of the mouth impacts overall health. She wants her patients to have flawless and healthy smiles. Her approach to your treatment starts with patiently listening to you. Then, after a complete and thorough examination, she reviews and discusses the diagnosis and treatment options with you.
"I am proud to provide my patients with the best in dental technology, treatment options, and patient comfort. It is my pleasure to address all of your questions and concerns." - Dr. Marianna Gaitsgory
More to Explore
About Us Tour Our Office See Our Services
Contact Us for an Appointment Today
Dr. Gaitsgory and our team at Framingham Premier Dental look forward to providing you with the beautiful smile that you deserve. To schedule an appointment with our knowledgeable and friendly staff, contact our Framingham dental office today at (508) 875-0900. We proudly serve Middlesex County, Natick, Sudbury, Ashland, Southborough, Westborough, Marlborough, Hopkinton, Holliston, and Sherborn, Massachusetts.