Dentist Providing Restorative Dentistry in Framingham
Regain Your Healthy & Attractive Smile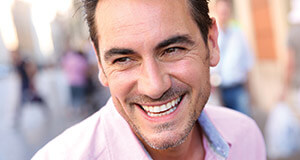 As a practice, we prefer to start with the most conservative treatment available and escalate as needed. That's why Framingham Premier Dental places such a strong focus on prevention: we would rather put an end to an oral health problem before it starts. However, even with careful and conscientious prevention, tooth damage can occur.
Dr. Gaitsgory prides herself in providing high-quality restorative dentistry to her patients. When decay or damage has weakened a tooth, your Framingham dentist will place a restoration on that tooth to restore durability and function. If the damage is too great, more extensive measures may be required. We're happy to offer quality, comfortable fillings and crowns, root canal therapy, and more for your benefit!
Occasionally, a tooth will become too decayed or damaged to remain in the mouth. When a natural tooth (or several) cannot be retained, your Framingham dentist offers an array of premium prosthetic solutions as well including implant-retained prosthetics, bridges, and full and partial dentures. Take a look below to learn more about this variety of transformative treatment options.
Root Canal Therapy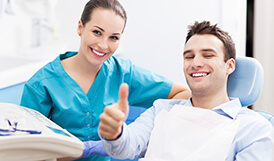 When a cavity extends beyond the enamel into the root canals (the internal structures of the tooth), the decay can infect the sensitive tissue inside. Due to the abundance of blood vessels and nerves in this space, not only will a patient feel pain when this occurs, they are also at risk of the infection spreading elsewhere in the body. Your Framingham dentist can perform root canal therapy on an infected tooth and in many cases, save the tooth from being lost.
Root canal therapy begins by creating a space for the dentist to access the root canal. Once this space is created, the dentist will remove any infection or debris. Dr. Gaitsgory will then sterilize and shape the root canal. Finally, she'll fill the root canal with rubber material that will give the internal structure of the tooth stability. After the procedure, if a tooth is still too unstable to function properly, a crown restoration may be placed to further strengthen the tooth against damage or decay.
Dental Crown and Bridges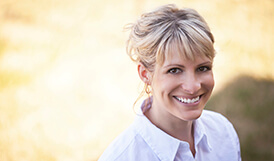 Dental crowns are available for patients who have individual teeth in need of restorative or cosmetic correction. Additionally, a fixed bridge is effective for patients who have lost adjoining teeth. If you choose to proceed with a fixed bridge, Framingham dentist, Dr. Gaitsgory, will place crowns on the abutment teeth, which are the two teeth on each side of the gap where teeth are missing. These crowns provide the anchor for the fixed bridge. After shaping the crowns, she will take an impression of the gap and send that information to a dental laboratory, where your fixed bridge will be created.
You will have the option of wearing a temporary bridge during this time. When your permanent bridge arrives, the dentist will cement the prosthetic in place, which means you won't have to remove this appliance. You can eat, drink, and care for these replacement teeth just as you would natural teeth.
Full and Partial Dentures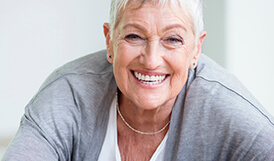 If you are missing several, non-adjoining teeth or an entire arch of teeth, you may be an excellent candidate for dentures. Framingham Premier Dental offers both partial and full dentures depending on the extent of your tooth loss. Partial dentures can replace several teeth. These prosthetics come equipped with a hinge that clips securely to natural teeth. By filling in any gaps, this restoration keeps your remaining teeth in their proper position, thereby eliminating the shifting that can occur when teeth are lost.
Full dentures replace an entire arch of teeth. Using suction or denture adhesive, dentures are secured directly to your gum tissue. By replacing missing teeth, you can eat and drink normally and smile with confidence. Additionally, your face can maintain its full, more youthful appearance.
Dental Implants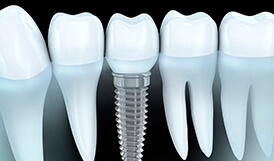 Dental implants are a permanent prosthetic option for those who would prefer non-removable replacement teeth. An implant consists of a titanium post that is inserted into the jawbone by an oral surgeon. Over the course of several months, the post integrates with the jawbone. Once this integration is complete, our Framingham dentist will attach your replacement teeth to the implant. Implants can support a crown, bridge, or denture. Your new teeth will fit, feel, and function like natural teeth, and no one will be able to tell your implants apart from your natural teeth.
Contact Us Today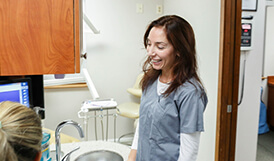 To schedule an appointment with Dr. Gaitsgory, contact Framingham Premier Dental today at (508) 875-0900. We offer restorative and reconstructive dental care for patients in Middlesex County, Natick, Sudbury, Ashland, Southborough, Westborough, Marlborough, Hopkinton, Holliston, and Sherborn, Massachusetts.