Cosmetic Dentist Providing Botox Injections in Framingham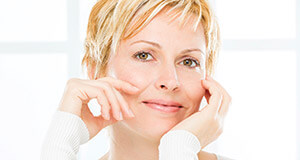 Do you have lines or wrinkles you wish you could erase? Are symptoms of TMJ dysfunction keeping you from enjoying good oral health and overall wellbeing? At Framingham Premier Dental, Dr. Marianna Gaitsgory now offers effective cosmetic and dental care with Botox and dermal fillers. Both are among the most popular cosmetic therapies offered by medical professionals and take just a few minutes to administer.
The Cosmetic Benefits of Botox and Dermal Fillers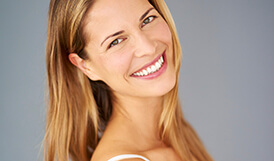 Both Botox and dermal fillers have anti-aging benefits, but they treat different types of wrinkles. For example, Botox specifically targets the wrinkles around the eyes and in the brow. Dermal fillers, on the other hand, treat lines and wrinkles around the mouth. Additionally, they each work in slightly different ways. Botox erases wrinkles by preventing muscle contractions. Dermal fillers, meanwhile, actually fill lines, often with naturally occurring hyaluronic acid, resulting in a beautiful, volumized appearance.
Regardless of which option you need, you can look forward to a quick visit to our Framingham dental office. How quick? Quick enough that you could stop in on your way to work, during your lunch hour, or on your way home. With just a few quick injections from Dr. Gaitsgory, you can be on your way again with long-lasting results. Specifically, Botox patients can expect to see results for four months, while dermal fillers last as long as a year.
Effective Care from an Experienced Professional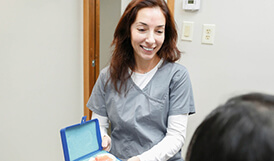 To ensure patients receive the best care possible, Dr. Gaitsgory learned how to administer Botox and dermal fillers through the American Academy of Facial Esthetics. This prestigious organization trains doctors in how to administer all manner of non-surgical and non-invasive cosmetic injections. With the excellent training she received, you can be confident that you'll receive the best possible care.
Better Oral Health with Botox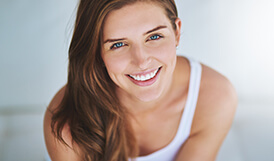 For most patients, Botox is just a cosmetic service that eliminates wrinkles. But erasing wrinkles for months at a time isn't all this effective cosmetic therapy can do. Recently, it's been discovered that Botox can alleviate the symptoms of TMJ dysfunction as well. How? The same way it works on wrinkles by preventing muscle contractions. Have you tried any number of solutions for your TMD but are still struggling with uncomfortable symptoms? TMD therapy with Botox may help. Call our Framingham office today with your questions for Dr. Gaitsgory.