Root Canal Therapy – Framingham, MA
A Virtually Pain-Free Way to Save Your Tooth
Are you terrified of needing a root canal? If so, you'll be happy to know that the reputation of this tooth-saving treatment is much worse than the reality. In fact, many patients report that the process is no more cumbersome than having a standard filling done! So, if you've been struggling with dental pain or any other abnormal symptoms, don't wait another day to schedule an appointment with Dr. Marianna Gaitsgory. Of course, you can also keep reading if you would like to learn more about this restorative dental service.
Do I Need Root Canal Therapy?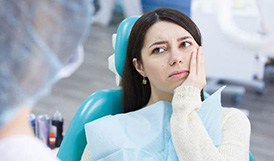 Every six months, we recommend visiting us for a checkup and cleaning. That way, we can catch dental damage early on (ideally before a root canal is necessary). Between appointments, however, you should keep an eye out for the following symptoms:
Persistent sensitivity to hot and cold foods and beverages
Sharp pain when chewing
Dark discoloration on one or more of your teeth
Swollen, red, or inflamed gums
A pimple-like bump on your gums
If you experience any of these, then contact our team right away to schedule an appointment.
The Root Canal Process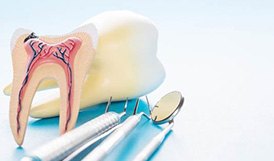 The reason root canals are painless is because the first step of the treatment process is always the same: using a local anesthetic to numb your mouth. This will ensure that you remain completely comfortable through every step of the process, which starts with accessing the inner chambers of the tooth in question. After the pulp has been removed, our Framingham emergency dentist will sanitize the area, fill the open space with a synthetic gutta-percha material, and place a temporary dental crown over the top of the tooth. Once your permanent crown has been crafted by the lab artisans, you'll return to our office so we can replace your temporary crown with this one. At this point, the treatment process is done!
The Benefits of Getting a Root Canal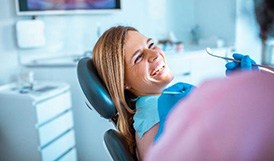 Getting a root canal will benefit your oral health in several ways. First and foremost, root canals save your natural teeth, preventing you from needing to extract the tooth and replace it with a dental bridge or implant. Secondly, the restorations used to protect your treated tooth are extremely lifelike, which ensures that your confidence isn't compromised in the process and that no unwanted attention is drawn to your smile. Lastly, root canals have an extremely high success rate. As a result, many patients benefit from the results for decades, if not the rest of their lives!