July 22, 2019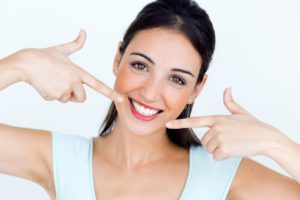 Your smile is often one of the first things that people notice about you. You only get one chance to make a good first impression, so why not have that impression be one with a beautiful smile? Studies have shown that people with great smiles are perceived as more attractive, wealthy, and confident. Let's look at 5 ways your cosmetic dentist in Framingham can enhance your smile.
What Is Cosmetic Dentistry?
While general dentistry is about preserving and restoring the health of your mouth, cosmetic dentistry focuses on improving the way your teeth and smile look. If you're unhappy with any aspect of your smile, such as the color or shape of your teeth, your cosmetic dentist can help fix those flaws with one or more of these 5 services:
1. Teeth Whitening
Many people want to achieve a whiter smile, but over-the-counter whitening kits often don't provide the desired results. That's why your dentist offers two methods of teeth whitening that really work: take-home and in-office treatments.
With take-home whitening, your dentist will create custom trays based on the contours of your teeth. Wear these trays with a very potent bleaching gel as prescribed, and your teeth will become up to 8 shades whiter in just a few weeks. You can also achieve results in about an hour with our in-office treatment. Talk to your dentist about which option is more suitable for your teeth.
2. Invisalign
If you have crooked teeth but don't want to go through the hassle of metal braces, Invisalign may be right for you. This set of clear braces is almost undetectable when you wear them. Simply keep your clear plastic aligners in for at least 22 hours a day. They will apply very gentle force to your teeth to gradually shift them into a straighter position. Invisalign takes less treatment time on average than braces, and they require fewer appointments for adjustments. You'll only have to come in for checkups every six to eight weeks.
3. Dental Bonding
Dental bonding is perfect for chips or cracks in your teeth that you want to fix in just one appointment. Bonding is made of a composite resin that's similar to the material used to fill cavities. Your dentist will sculpt the material into your tooth to correct a number of minor imperfections, then use a hardening light to quickly dry the material out. You will have flawless, natural-looking teeth after just one visit to the office.
4. Porcelain Veneers
Veneers are thin shells of porcelain that are placed over the front surface of the teeth. A small layer of tooth enamel needs to be removed for the veneers to be placed, but that's a small price to pay to conceal flaws such as:
Gaps between teeth
Stained teeth
Slightly crooked teeth
Chips or cracks
Porcelain veneers can be custom shaded to perfectly match the rest of your smile. They look completely natural and, with proper care, can last more than a decade.
5. Gum Recontouring
If you've ever been told you have a "gummy" smile, you might benefit from gum recontouring. Your dentist can use a soft-tissue laser to strip away some of the excess gum tissue that shows when you smile. You will feel much more confident when more of your pearly whites are visible to the world.
Any one of these cosmetic procedures can do wonders for your smile. They can boost your confidence and improve your social and even professional life. To learn more about how these procedures can benefit you, contact your cosmetic dentist today.
About the Author
Dr. Marianna Gaitsgory earned her Doctor of Dental Medicine degree from Boston University's Goldman School of Dental Medicine. She focuses on patient comfort, no matter what procedure a patient is undergoing. She makes sure to discuss all treatment options with a patient to come to a decision together about what plan would be best for a patient's smile. To learn more about how she can improve your smile with cosmetic dentistry, click here or call (508)-875-0900.
Comments Off

on 5 Ways Your Cosmetic Dentist in Framingham Can Meet Your Smile Needs
No Comments
No comments yet.
RSS feed for comments on this post.
Sorry, the comment form is closed at this time.