Zoom! Teeth Whitening in Framingham
A Brilliantly White Smile in Just an Hour
$350
ZOOM!
Whitening
Includes Take-Home Whitening Trays
$500 Value!
Limited Time Offer
$350 ZOOM! WHITENING
Next time you visit the pharmacy or grocery store, take a walk down the oral hygiene aisle. You may be surprised to see an overwhelming amount of toothpastes, mouthwashes, strips, and gels that promise dramatic teeth whitening transformations. However, despite their lofty ambitions, most of these whitening products do not actually deliver on their promises. Patients who are interested in brightening their smiles should schedule a cosmetic dentistry consultation with Dr. Marianna Gaitsgory and the Framingham Premier Dental team. We'll evaluate your smile and make a recommendations for the best whitening treatment to meet your unique set of needs. Contact us to find out more about teeth whitening and other cosmetic dentistry solutions from your Framingham dentist.
What Causes Dental Discoloration?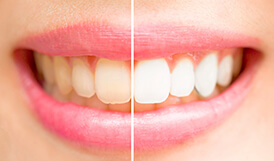 There are a number of reasons patients may notice their teeth yellowing or discoloring. Some of the most common reasons patients experience dental discoloration include:
Consumption of staining foods and drinks – remember if a food or beverage will stain a white shirt it will stain your smile
Daily wear and aging – the surface enamel of teeth is typically a white color, but the underlying dentin layer of teeth is more yellow patients who notice their teeth appearing to yellow over time are likely seeing the dentin
Genetics – some patients are naturally not as bright as others
Tetracycline medications – taken before a certain age, tetracycline and other common medications may lead to discoloration of teeth
Bad health habits – smoking, excessive alcohol consumption, and lax oral hygiene all lead to dental discoloration
How Does Zoom! Whitening Work?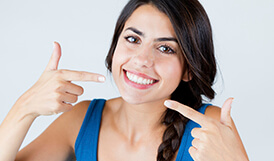 At Framingham Premier Dental, we're proud to offer in-office whitening with Zoom! This innovative teeth whitening system offers fast, predictable results within about an hour. The process is simple. First, we place a protective barrier to keep the whitening gel off of gums and other soft tissue which may be damaged by whitening agents. Then, we apply a thin coat of the Zoom! whitening gel to the surfaces of teeth. Zoom! works so quickly because it uses a low-heat light to catalyze and accelerate the chemical reaction that removes stains and brightens smiles. We typically apply the gel for fifteen minutes at a time, and we reapply as needed to achieve the desired result. Most patients achieve smiles up to ten shades brighter in about an hour.