November 19, 2019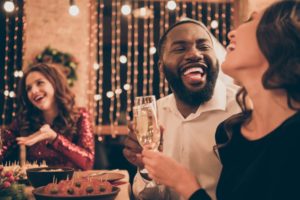 Do you wish the lines and wrinkles on your face could be erased and you could start the holidays with a refreshed and youthful appearance? With BOTOX, you can! They're a great cosmetic solution that takes only a few minutes to administer, revealing beautiful results in only a few days. The holidays are a time to be grateful for what you have. Without being self-conscious of your aging appearance, you'll be able to sit back and enjoy spending time with your family and friends while soaking up the holiday spirit. Read on to learn what BOTOX injections can do for you this season.
What is BOTOX?
The bacteria that's used in BOTOX injections is called botulinum toxin. When it's diluted in a saline solution and injected into certain muscles, it's able to weaken or freeze them, giving them a chance to rest and temporarily smooth facial lines caused by aging or making expressions. It's used in incredibly small doses and typically takes anywhere from five to 10 minutes for each injection to be administered by your cosmetic dentists.
Recently, the FDA has also approved BOTOX for medical treatments like TMD, excessive scalp sweating, and even muscle spasms. It hasn't yet been officially approved as a treatment for migraines, but many researchers are discovering that BOTOX injections also ease those pounding and lingering head pains as well.
Do These Cosmetic Flaws Take Away From Your Holiday Spirit?
The holidays are all about giving thanks and spending quality time with your family. However, when you're too distracted or self-conscious of the appearance of wrinkles and lines on your face to focus on anything else, it can take away from the special spirit of the season. Patients who are in their late 20s or older who are affected by facials flaws such as these can benefit from this treatment:
Crossed eyes (approved by the FDA in 1989)
Crow's feet
Lines between eyebrows
Horizontal lines on forehead
Wrinkles form from repeated muscle contractions when you laugh, smile, or frown. BOTOX will help give those constantly used muscles a rest, which results in a noticeable reduction of the appearance of a variety of wrinkles and lines.
What are the Benefits of BOTOX?
BOTOX is a great cosmetic solution for patients whose self-esteem is heavily affected by their facial appearance. It offers several convenient benefits, including:
Virtually immediate results.
Subtle effects.
Non-surgical procedure.
Lasting results.
Cost-effective treatment.
Dual medical treatment use.
Few side-effects and risks.
While receiving BOTOX at a dentist may sound odd, over the last decade, dentists have been authorized to administer it, allowing their patients to improve their overall facial appearance. For their entire careers, they've studied the structure of the face, making them some of the most qualified professionals to offer BOTOX injections. The first step to regaining your youthful appearance for the holidays is to schedule a consultation with them today!
About the Author
Dr. Marianna Gaitsgory is committed to lifelong learning, which is why she takes several hours of continuing education courses in a variety of dental topics every year. She wants her patients to feel confident and comfortable in their own skin, which is why she offers a large menu of cosmetic dental services, including BOTOX and dermal fillers and teeth whitening. With these, she's able to give her patients an appearance that they feel proud of. For questions or to schedule a consultation for BOTOX injections, visit Framingham Premier Dental's website or call 508-875-0900.
Comments Off

on Revitalize Your Appearance During the Holidays With BOTOX®
No Comments
No comments yet.
RSS feed for comments on this post.
Sorry, the comment form is closed at this time.