December 10, 2019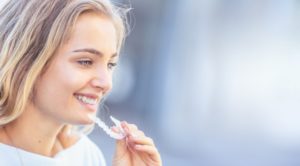 Yes, you've probably heard it already, but why not reiterate the cliché that 2020 is supposed to be the year of clear vision (as in 20/20 eyesight). As cheesy as that may read, when it comes to taking action about improving your smile, you need to have clear and concise methods to deliver the results you're looking for. As you continue reading, you'll discover how Invisalign in Framingham and porcelain veneers can lead you to the land of smile perfection and heightened confidence!
What is Invisalign?
The big secret about Invisalign is that it's more than just a way to improve your smile. In fact, its first order of business is to fix misaligned, slightly crooked or gapped teeth. The procedure starts with your dentist using the latest in 3-D imaging to map-out a complete smile plan. Better yet, it will even show you how you'll look once your treatment concludes. The information is sent to a trusted and certified Invisalign lab that will fabricate a complete series of BPA-free clear-plastic aligner trays. When they arrive at your dentist's office, you'll be invited back to retrieve the entire set.
The process is simple from there on; you'll simply need to adhere to the following:
To wear each set of trays for two weeks at a time and then exchange them for the next progression in the series
To wear the trays for at least 22 hours each day to prevent any regression
To remove the trays before eating or performing oral hygiene
To clean and soak the trays with each removal
When these guidelines are followed, Invisalign can often straighten a set of teeth in as little as 12-18 months.
Porcelain Veneers for Faster Results
If you're not as concerned with making orthodontic corrections to your teeth, then porcelain veneers may be the better option. The thin shells, which are custom designed to fit directly over your front teeth, can mask gaps, minor crowding, misalignment and stains.
The procedure starts with your dentist using a special shade guide to find just the right color of material to match your other teeth. Then, after a thin layer of enamel is removed to make way for the new fixtures to fit properly, bite impressions are taken and sent to an in-network lab that will craft the veneers to your dentist's specifications. Meanwhile, a temporary set of veneers will be placed to protect your exposed teeth. Once the permanent veneers return, you'll head back to have them bonded into position.
Why Your Smile is Important
A common misconception is that improving your smile is a mere act of vanity. The reality, however, is that feeling better about yourself can actually have a positive impact on your overall health. That's because when you're happier, more of the health-enhancing hormones like endorphins, oxytocin and dopamine are produced.
So if you're ready to make 2020 a confident and rewarding year, then reach out to your cosmetic dentist in Framingham to schedule a visit!
About the Author
Dr. Marianna Gaitsgory earned her dental degree from the Goldman School of Dental Medicine at Boston University. Because she understands that dentistry is a constantly evolving field, she takes continuing education courses to stay abreast of the latest changes. An experienced cosmetic dentist, Dr. Gaitsgory transforms smiles at Framingham Premier Dental, and she can be reached for more information through her website.
Comments Off

on Two Ways to Achieve the Smile of Your Dreams in 2020!
No Comments
No comments yet.
RSS feed for comments on this post.
Sorry, the comment form is closed at this time.