June 17, 2020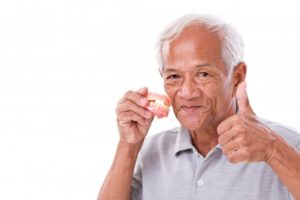 Congratulations on your newly completed smile! A denture is a tried and true method for quickly replacing missing teeth and regaining a full set of pearly whites. They may not be a permanent solution like dental implants, but you can easily expect them to last at least a decade if you care for them properly. Extend the lifespan of your new smile with these eight easy and effective denture care tips.
Tip #1: Handle Your Denture Carefully
Your denture is built to be strong, but it isn't indestructible. You should always take your time when removing, replacing, or cleaning it to ensure you don't accidentally drop it on a hard countertop or tiled floor, which can easily cause chips or cracks. Lay a towel on the counter or sink to protect it should it fall.
Tip #2: Rinse Off Your Denture After Eating
Food particles will cling to your denture after you've eaten, which can attract bacteria. After eating a meal or snacking, take a moment to rinse away any lingering particles.
Tip #3: Clean Your Mouth After Removing Your Denture
Plaque and bacteria naturally build up in your mouth over time. Make sure to gently brush your natural teeth, tongue, cheeks, and gums every morning and night to keep them healthy.
Tip #4: Brush Your Denture At Least Once a Day
Bacteria, food particles, and plaque can collect in the small spaces created by your denture. To lower your risk of gum disease, tooth decay, and oral infections, brush your denture at least once a day.
Tip #5: Soak Your Denture Overnight
It's essential that you remove your denture at the end of the day. However, your denture may warp and collect bacteria if allowed to dry out. Always soak it in water or denture cleaning solution before going to bed each night.
Tip #6: Rinse Off Any Used Denture Adhesive & Cleaning Solution
Denture cleaning solution and used adhesive can be harmful if swallowed. Before putting them in your mouth, make sure your denture is cleaned and rinsed off.
Tip #7: See Your Dentist Regularly
Even though your denture won't develop cavities, you should come in for a dental checkup at least twice a year. This gives your dentist a chance to inspect the health of your mouth and discover any early warning signs of developing issues. They'll also give your denture a thorough cleaning.
Tip #8: Tell Your Dentist If Your Denture Doesn't Feel Right
The shape of your mouth naturally changes with time, which can cause your denture to lose its proper fit. Poorly fitting dentures can cause sores, gum irritation, and oral infections, so it's important to let your dentist know right away if your new smile doesn't feel as comfortable as it should.
Inevitably, your denture will need to be replaced to keep your gums and natural teeth healthy. However, these practical tips can help you make the most out of your denture for years to come.
About the Author
Dr. Marianna Gaitsgory of Framingham Premier Dental has rebuilt countless smiles with a variety of tooth replacement options. Thanks to her numerous hours of advanced training and continuing education, she is proud to offer the most comfortable and efficient treatments available. She uses the latest dental techniques and state-of-the-art technology to provide dental care that meets and exceeds expectation. For more tips on how to care for your new dentures, she invites you to contact her via her website or at (508) 875-0900.
Comments Off

on 8 Practical & Effective Tips to Care for Your New Dentures
No Comments
No comments yet.
RSS feed for comments on this post.
Sorry, the comment form is closed at this time.