August 14, 2020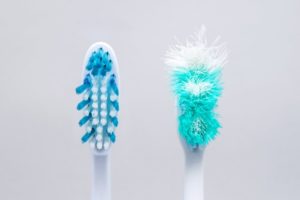 If you maintain a good dental hygiene routine, that means that you are using your toothbrush all the time! That is great news for your smile, but how do you know when it's time for a new one? Most people don't know the correct amount of time before they should be replacing their toothbrush. Read on to learn from your dentist about the consequences of using an old toothbrush, how you can get the most out of this dental tool, and when you should get a new one from your local drug store.
When Should Manual Toothbrushes Be Replaced?
In general, manual toothbrushes should be replaced every three to four months according to the Centers for Disease Control and Prevention (CDC). After this amount of time, the bristles start to lose the stiffness they originally had which makes them much less effective at cleaning your teeth. Sometimes, you may even want to replace your toothbrush earlier. Stay on the look out for wear and tear of the bristles. If someone in your household gets sick, it is a also a good idea to switch out your toothbrush to prevent the spread of germs.
When Should You Replace Your Electric Toothbrush's Head?
It is recommended that you replace the head of an electric toothbrush about every 12 weeks. When compared to their manual counterpart, electric brush heads tend to have shorter bristles. This makes it more likely that they will become worn even faster. If you notice that your bristles are beginning to look worn, it is a good idea to get a replacement head for your toothbrush. This way, you will be less likely to leave plaque behind and you will be preventing future dental issues.
How Do I Make My Brush Last?
You should always replace your toothbrush after the amount of time indicated above. In order to get the most out of your brush during that time, remember the following:
Always rinse the head of your toothbrush after brushing.
Never keep your toothbrush in a closed container. This causes mold and bacteria to grow.
Don't use disinfectants or mouthwash to sanitize your toothbrush.
Make sure that your toothbrush isn't touching the head of another one. This is an easy way to spread bacteria from one person to another.
Never share a toothbrush with someone else. This is unsanitary and spreads bacteria.
If it's been a while since you've gotten a new toothbrush, it may be time. Remember to keep an eye out for wear and tear so you know when to get a new one. Optimal oral health relies on a good oral hygiene routine, including having all the proper tools.
About the Practice
At Framingham Premier Dental, you have not just one, but two well-skilled dentists serving patients through a wide variety of different services. Dr. Jean-Marie Biebuyk earned his Doctor of Dental Surgery from the University of Pennsylvania and completed a prestigious periodontal program at the Tufts School of Dental Medicine. Dr. Marianna Gaitsgory earned her Doctor of Dental Medicine from the Goldman School of Dental Medicine at Boston University and has completed numerous hours of professional training. For more information on proper oral hygiene or to schedule an appointment, visit their website or call (508) 875-0900.
Comments Off

on When Should I Replace My Toothbrush?
No Comments
No comments yet.
RSS feed for comments on this post.
Sorry, the comment form is closed at this time.