February 14, 2020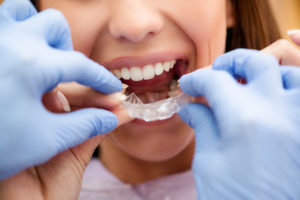 Have you always wanted a straighter, more attractive smile but cannot stand the thought of wearing metal braces? Good news – you do not have to! Invisalign in Framingham can straighten your teeth without any of the unsightly brackets and wires. You may have heard about the modern alternative to metal braces, but how much do you really know about Invisalign? Let's find out! Here are 5 interesting facts about Invisalign clear braces that may surprise you.
The Inventor of Invisalign Wore Metal Braces
The inventor of Invisalign, Zia Chishti, was inspired to find a better way to straighten teeth after wearing traditional metal braces himself in his early twenties. The Stanford University graduate designed the innovative orthodontic aligner system, secured funding partners, and launched Align Technologies, the company that produces Invisalign, in California in 1997.
Invisalign Is Worn Around the World
Today, Invisalign helps men and women around the world to straighten their teeth with their innovative system of clear plastic aligners. To date, over 8 million people – including more than 1 million teenagers – have turned to Invisalign to transform their smiles. The American company boasts operations in North America, Asia, and even Israel.
Hollywood Celebrities Use Invisalign
One of the major benefits of Invisalign in Framingham is that it straightens teeth so subtly that most people around you won't even notice. Even Hollywood celebrities, who are constantly surrounded by fans and cameras, turn to Invisalign clear braces to achieve a fabulously straight smile. Here are just a few A-list stars who have used Invisalign:
Oprah Winfrey
Justin Bieber
Tom Cruise
Serena Williams
Eva Longoria
Straight Teeth May Improve Oral Health
While many men and women opt for Invisalign treatment for cosmetic reasons, straightening your teeth can have a positive impact on your overall oral health as well. Overcrowded teeth are more difficult to thoroughly clean, which means it may be easier for bacteria to build up between teeth and lead to gum disease or tooth decay. Invisalign treatment can also eliminate some mild bite issues. A misaligned bite, if left untreated, may contribute to broken teeth or significant pain in the jaw joints and surrounding muscles.
Invisalign May Work Faster than Metal Braces
While every individual case is unique, most patients complete Invisalign treatment in just 12 to 18 months. This is significantly faster than one can expect when wearing traditional metal braces! To ensure you complete your Invisalign treatment on schedule, it is very important that you wear your aligners 20 to 22 hours a day, or as directed by your dentist.
So, did these 5 interesting facts about Invisalign clear braces surprise you? If you are ready to achieve the straight smile you have always wanted, talk to your dentist in Framingham today about whether Invisalign is right for you.
About the Author
Dr. Marianna Gaitsgory leads the experienced and friendly team at Framingham Premier Dental in providing quality dental care to patients of all ages. The proud Boston University graduate helps design custom Invisalign treatment plans for patients who want a straighter smile. To learn more about Invisalign clear braces, visit the Framingham Premier Dental website or call Dr. Gaitsgory at 508-875-0900.
Comments Off

on 5 Surprising Facts About Invisalign You Would Never Guess
No Comments
No comments yet.
RSS feed for comments on this post.
Sorry, the comment form is closed at this time.